QUALITY FIRST means all of NGK's operation and products have quality as their number one priority. This guarantees both customer satisfaction and customer loyalty.
CONTINUOUS IMPROVEMENT means we are committed to continuously upgrading quality and productivity.
MEMBER PARTICIPATION is key. Quality is the responsibility of all NGK employees. This ensures impeccable quality and high efficiency.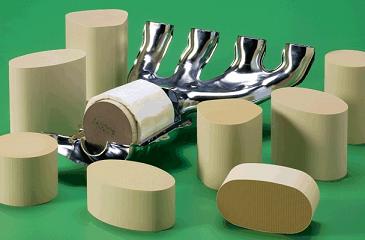 HONEYCERAM® is used in catalytic converters all over the globe. More than 300 million substrates have been manufactured over the past 25 years.
HONEYCERAM® is a porous ceramic with high thermal and impact resistance. It is manufactured using the latest techniques of precision extrusion to give a honeycomb structure and superlative strength. It is designed to give a large surface area, facilitating effective catalytic conversion within a compact design.
HONEYCERAM® has been developed by NGK through extensive experience with ceramics technology – experience that represents a positive approach in the fight against pollution.
<![if !vml]>
<![endif]>
<![if !vml]>
<![endif]>
<![if !vml]>
<![endif]>